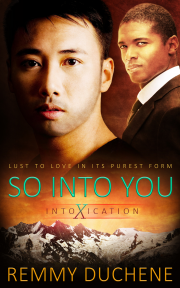 Alfred Leung's life is in the crapper. From his gold-digging, racist mother and a cheating ex-boyfriend to his hang-ups about sex—everything in his existence depresses him. Add to it passing his days serving faux French food in a diner. It isn't how he planned on spending the rest of his life, so the fates have definitely conspired against him. Just out of a relationship, he decides to focus on work and going back to one of the things that makes him happy—photography. Then, in his Armani suit, Darius Stark walks through the door of the diner, and Alfred's world is about go into a tail spin he never saw coming.
Darius Stark hasn't been with a man in years. Men see the suit and run screaming in the other direction or they tear-ass toward him because they see dollar signs. He decides to focus on his business, but soon he's buried himself so deeply in his work that years goes by without someone to love. Finally, he sees Alfred and wants him, but Darius is about to find out not everyone thinks he's almighty and that some men are flawed.
This is a pretty enjoyable read about a man from humble means discovering love with a handsome, successful and extremely rich man who cherished and adored the ground he walked! I can't help but appreciate that the two main characters are persons of color. Race does play a role in this story, but it has a distinct purpose to the plot and isn't shoehorned into the story for the sake of it. Alfred and Darius are just two men in the world trying to live their lives.
The chemistry between Alfred and Darius is sweet and passionate, and I found myself truly rooting for their happiness. There is one plot line that was kind of left hanging in my opinion, concerning Alfred's mother, but I think readers, overall, will be satisfied with outcome.
So Into You
is a quick read that will warm your heart
and
make you think.
Buy Link
Pride Publishing
|
Amazon
~ M