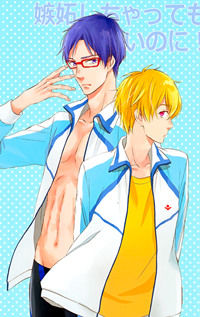 Hello yaoi lovers! This week's feature is
Be Jealous if You Want!
by
Nightlight
.
Rei can't seem to understand Nagisa and his incessant need for hugs and affection. When it all becomes too much, he asks Nagisa to refrain for being so clingy. His friend reluctantly agrees, but soon Rei finds himself jealous of all the affection Nagisa continues to give to their friends. Will jealousy get the best of Rei or will he be able to hold firm to his principles?
This is a really sweet and heartwarming story! Rei, in all his serious dorkiness, will bring a smile to your face, and Nagisa, as always, is so kind and adorable. Definitely give this doujinshi a try!
Read
Be Jealous if You Want!
here
.
~ M