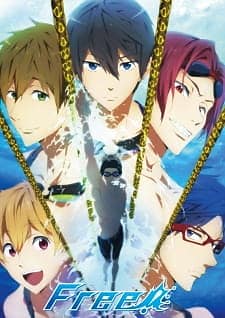 Greetings yaoi lovers! Today I will be reviewing the anime,
Free! Iwatobi Swim Club
. It
technically
isn't yaoi or even shōnen-ai, but there are certainly hints to it in the storylines...but I guess that's up to interpretation. All of the characters are tied closely together through their love of swimming, and because of that their relationships run deep.
The story follows five high school students, Haruka, Makoto, Nagisa, Rin and Rei, and their competitive swimming adventures. Haruka, Makoto, Nagisa and Rin swam together when they children, but Rin moved to Australia prior to middle school to study abroad and improve his swimming skills. Years later he returns and rocks the lives of his former friends, both competitively and emotionally.
I enjoyed this anime, but was often frustrated by the characters, particularly Haruka and Rin. Their inability to explain the reason behind their angst and seeming obsession with each other made me want to scream at times. I particuarly felt bad for Rei, the newest member of the Iwatobi Swim Club, who has to live in the constant shadow of Rin. I was proud of him for standing up to the former team member, who for most of the anime is a complete jerk, and finally getting to the heart of the matter.
Like I said, this anime is not yaoi. However, there is a definite undertone of deeper feelings, especially with Makoto, Haruka and Rin (the perfect love triangle). Believe me, I'm not trying to make this into something it's not, but it would be interesting to see! There is a second season entitled,
Free! Enternal Summer
, that I look forward to watching in the near future. All in all, I enjoyed this anime and would recommend it...but it would be even better if Haruka/Makoto and Nagisa/Rei magically fell in love and lived happily ever after! ;p
~ M